General Specifications List
---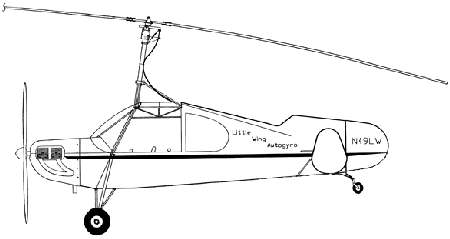 Main Rotor: 23 to 27 feet
Blade Chord: 7 inches
Length Overall: (rotor turning) 23-27 feet
Length of Aircraft without Rotor installed: 18 feet (16 feet, short-versions)
Wheel Track: 7 feet
Wheel Base: 13 feet - (11.5 feet, short-versions)
Landing Gear: Conventional (tailgear)
Overall Height: 8.5 feet
Cabin Width: 26 inches
Cabin Height: 42 inches
Cabin Length:

Approx. 49 inches (single)
75 inches (2-place)

Baggage: Small shelf aft seat(s) 10 lbs. max.
Rotor Disc Area:

415 Sq. feet (23 ft.)
573 Sq. feet (27 ft.)

Disc Loading (@ gross wt.):

1.8 lb./sq. ft. single-place (23 ft.)
1.9 lb./sq.ft., 2-place (27 ft.)

Tailplane Area:

Vertical Fin: 4.52 Sq. feet
Tip Shields: (2) 1.59 Sq. feet each
Rudder: 3.3 Sq. feet
Horizontal Stabilizer: 8.8 Sq. feet LW-3 series (8 Sq. feet for elevator models)
Elevator: (LW-2 and LW-2+2) 9 Sq. feet

Control Method:

Conventional rudder, fully-tilting head (LW-3)
laterally-tilting head with elevator (LW-2, long frames only).

Rotor/horizontal tail volume ratio:

22% for long frame
14.9% for short frame.

Empty Weight:

(Single-Place)

351 lbs. w/Rotax 582-618, 2Si 540-L(two-stroke powered)
452 lbs. w/ 2180 VW (four-stroke powered)

(Two-Place)

451 lbs. w/ Hirth F-30 (two-stroke powered)
520 lbs. w/ Rotax 914 (four-stroke powered)

Gross Weight:

750 lbs. Single-Place
1100 lbs. 2-Place.

Fuel Capacity:

8.5 US gal. (single-place)
13.5 US gal. (2-place)

Center of Gravity of loaded machine: Located on propeller thrust-line (slight variations with different powerplant installations) Horizontal position accomodated by adjustable pylon.
Cruise Speed: 65 - 75 mph
Minimum Speed: 15 - 20 mph
Landing Speed: 10 - 15 mph
Takeoff distance: 100-750 ft., depending on type of prerotation. (Hydr, mechanical, electric)
Landing Roll: 0-25 ft.
Rate of Climb: Varies with powerplant, density altitude and weight.
Ceiling: Undetermined for normally aspirated engines..20,000+ with Rotax 914.
Two-Place seating: Tandem, solo from rear seat w/ fully dual controls.
Construction: Welded SAE 4130 steel tubing, Dacron fabric covering.